In John 17:22,23 Jesus prays for His Church. He says, " I have given them the glory that you gave me, that they may be one as we are one — I in them and you in me — so that they may be brought to complete unity. Then the world will know that you sent me and have loved them even as you have loved me." Jesus desires for His church to be unified. Diverse, maybe, in ethnic background, gender, geographical location, church size and ministry passions -- but united as Christ followers and unified in our mission to carry out the work of God's Kingdom. And as people see God's Church united, despite our diversity, they will see the love and passion and purpose of God's Kingdom and be drawn into His family. That's the theme to be explored at Together To Transform 2020.
Main Sessions:
Dr. Michael Henderson
Converge V.P. of Church Strengthening
Pastor/Spouse Lunch:
Dr. Harold Lewis
Converge V.P. of Biblical Diversity
Friday Afternoon "Shalom" workshop:
Dr. Ruben Rivera
Chief Diversity Officer, Bethel University
Spanish Track:
Dr. Juan Hernández
Professor of Biblical Studies, Bethel University
11:00 AM
Pastor and Spouse Lunch
1:00 PM
Shalom Workshop with Dr. Ruben Rivera
7:00 PM
Opening Plenary Session
8:00 AM
CRM Annual Business Meeting
9:00 AM
Plenary Session Two
2:30 PM
Conference Concludes
Friday Afternoon Shalom Workshop
God's Call to Remarkable Christianity in a Divided World
Dr. Ruben Rivera, Chief Diversity Officer, Associate Professor of History, Bethel University
We live in a divided and broken world. But why are Christians themselves also divided along racial, ethnic, political and other lines? The hard news is that becoming Christian does not make us immune to prejudicial bias and the tendency toward what for over two decades Ruben Rivera has called the cultural captivity of Christ. This seminar will introduce participants to the surprising ways that even sincere Christians can be hindered by culturally captive, ingroup influences, and contrast this with what Rivera calls Remarkable Christianity.
Ruben Rivera, Ph.D. is Chief Diversity Officer and Associate Professor of History at Bethel University in Saint Paul, MN. He has given trainings in churches, schools and conferences across the U.S. addressing culturally captive Christianity, as well as racial reconciliation, biblical responses to the immigration debate, hidden biases, the racialization of the human and beauty, Christianity and the consumer self, cultural competence, intergroup dialogue, diversity leadership and more. The "Shalom Seminar" he created for Bethel University employees has been called a "new paradigm" in diversity training and is the basis for developing biblically grounded, culturally intelligent, transformative leaders and organizations.
Introduction to Biblical Diversity
Dr. Harold Lewis, Vice President of Biblical Diversity, Converge
Introduction to the foundation of Biblical Diversity. The workshop objectives will include recognizing the meaning of Biblical Diversity, presenting a practical model for engaging Biblical Diversity, and sharing the Seven Guidelines for engaging diversity dialogue.
Loving Small Places Like Jesus Does
Pastor Ty DesEnfants
Rural America is unique.  It is simultaneously better and worse than we think...and this is exactly what gives it so much potential! If your heart beats fast for ministry in a small place, join us for a discussion on how to love a small town like Jesus does and discover a new way of viewing your small town and engaging it with the Gospel.
Ministering to the Desperate and Disconnected
Laurel Bunker, Associate VP, Christian Formation & Church Relations, Bethel University
Why understanding and ministering effectively to the next generation matters for the future of the church.
Wired: Navigating the New Realities of Parenting in a Fast-Paced, High-Tech World
Rebecca Jacobson
Rapid technological developments have changed our lives for better, and for worse. We can quickly access information, connect with loved ones, and simplify daily tasks. But social media can also breed addiction, destructive comparisons, bullying and complicate many facets of life. In this breakout, we'll discuss the current online reality families face and uncover tools that can equip parents and caregivers to navigate raising families in a high-tech world.
Building a Multi-Cultural Church
Dr. Robin Holland
Living Hope Bible Church was planted in 1992. This predominantly African American congregation, now has a successful Spanish expression reaching hundreds of Hispanic residents in the neighborhood. Dr. Holland will tell the Living Hope story and give you practical coaching on how you can become a healthy multi-cultural congregation.
Pastors' Wives: Being A Family In Ministry  Part 1
Coletta Smith, Along Side Ministries
"Because we loved you so much, we were delighted to share with you not only the gospel of God but our lives as well." -1Thessalonians 2:8
We all long for our families to know Jesus and walk with Him, not just on the outside but from their hearts. How we navigate being a family in ministry can either help them embrace what God wants to do through them or become an obstacle to it. During our time together, we'll talk about raising families that are Kingdom-focused and on a mission with Jesus.  We'll talk about cultivating that in our own lives, in our marriages, in our children (and our grandchildren!) And we'll dig into some of the obstacles that make it a little more complicated when your family is in the public eye. We'll have time for a little teaching, discussion, and some activities to help us take the next step in this journey of being a family in ministry.
Pastors' Wives: Being a Family in Ministry – Part 2
Coletta Smith, Along Side Ministries
"I have no greater joy than to hear that my children are walking in the truth."  -3 John 4
This breakout intensive will dive into raising kids in a ministry family.  All too often, being in ministry means that our kiddos see the church as something that takes away from our family instead of adds to it.  It doesn't have to be this way. We'll talk with a panel of ministry moms, all in different seasons with different experiences to get some tools to raise families that embrace the calling to be Jesus-followers, Kingdom-minded and others-centered.  This will be full of practical, fun ideas for helping your family be on mission, embracing this life together.
Light In The Darkness - A Response to the Suicide Crisis
Joel MacFarland, MDiv, MSW, Licensed Clinical Social Worker, Southwest Counseling Associates
The Rocky Mountain West records some of the highest suicide rates in the country.  This epidemic creates a unique challenge and opportunity for the local church to be a light in the darkness.  This session will examine how the local church can facilitate an environment open to discussing this difficult topic.  In addition, we will discuss specific strategies those in ministry can use to better determine a person's need when they are struggling with suicidality and how to provide different forms of suicidal presentations with the proper type of assistance.
Uniting Your Church Around a Missions Focus
Jimmy Smith, Church Mobilization Specialist
Funding missionaries is important but not nearly as rewarding as having your whole church join them in the mission to which God has called them.  Churches across the country are realizing that their missions partnerships are often little more than check-writing endeavors — and many are saying it is time for that to change.  What if instead, a church united around a common missions endeavor and backed that endeavor with the full might of its resources, people, and unique skills?  In this breakout, you'll discover how a church of any size can experience the powerful impact of uniting around a common missions focus that works with missionaries and national partners to achieve the important global work God has prepared in advance for them to do. (Eph. 2:10)
Gary Lidholm, Stapleton Fellowship First Response Team
Is your church prepared to handle a medical emergency? A gunman that invades your service?  Churches need to be prepared to handle the most difficult situations.  Stapleton Fellowship Church has been doing a lot of work in this area. Their First Response team has merged security, medical, ushering and greeting under one umbrella. In this breakout they will be sharing their Emergency Response Plan and some of the work they are doing with some ex-police officers to develop conceal carry guidelines. This breakout will be a good opportunity for all CRM church security teams to collaborate on best practices in keeping their congregations safe.
Spanish Track:  Cristo a Través de los Cuatro Evangelios (Christ Through the Four Gospels)
Juan Hernández, Professor of Biblical and Theological Studies, Bethel University
The Spanish Track will run during both breakout sessions.  The event is open to bilingual individuals or even those who speak primarily English.  Although the lecture is entirely in Spanish, the PowerPoint is in English and easy to follow. Often people who are not entirely fluent in Spanish but who would want to work among Spanish speaking people come to Dr. Hernández' seminars for ministry practice or cultural exposure. All are welcome.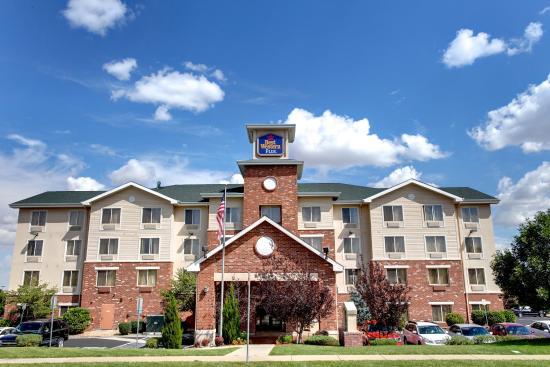 Best Western Gateway Inn and Suites
800 S Abilene Street
Aurora, Colorado 80012
United States
Room Rate: $84.99